Product Review: How to Read Fitness Research
By
     Today I want to take some time and give you my critical thoughts on a topic close to my heart. That topic is research as it relates to coaches, clinicians, and personal trainers. It's safe to say when many fitness professionals started off in the profession it was less of an "evidence-based approach" and more emulation of those that came before us or were currently around us. Nowadays it's not uncommon to see personal trainers creating entire fitness programs for fat loss, hypertrophy, strength, etc. straight from information found in scientific literature. While research is only a part of the "evidence-based" paradigm, it certainly does play a critical role and science as a whole should keep us accountable for the results we get with our clients and how we go about getting those results.
     In many cases a coach or trainer will be intimidated by the literature as it's usually written by scientists with a different vocabulary. Understanding the statistics and study design methods of research is critical to interpreting how and why the researchers got the results they did.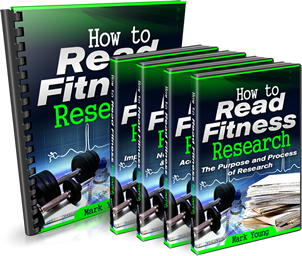 There's a huge amount of misinformation in the fitness and nutrition world and the media hasn't helped decrease the pollution either. With all this swirling around us many times we simply look to others to interpret scientific information. We look to those who we trust and whose knowledge of science we respect. With that approach obviously comes the bias of who ever you're gleaning from. Well look no further I say, because there's finally a resource out there that is specific to coaches and trainers, teaching us how to read, understand, and apply scientific research. It's called "How to Read Fitness Research." The product was created by Mark Young who has been through the formal education ranks and wanted to give back to his fellow fitness professionals.
     This tool gives you the ability to think for yourself and be free from the biases of second hand reviews, misinformation, and pseudoscientific marketing. It allows you to create the absolute best evidence based fitness and nutrition programs to gain muscle, lose fat, reduce injuries, and improve performance. I've gone through the education myself and I can't speak highly enough about it. The knowledge and skill sets you'll gain from this educational product will most definitely elevate the results you get with you clients by teaching you how to make your knowledge base much more profound than it currently is. Guaranteed. It shows how you can find research on topics you're interested in, read it, critically appraise it, and go about getting even more scientific information on the subject. No prior research background is needed. This product does an amazing job of distilling everything down into a "research for dummies" format. It's being sold for only $37 this week but after the introductory period ends Friday, the price goes up to $77. Clearly it's a huge percentage you're saving by getting it this week. So act now!   HOW TO READ FITNESS RESEARCH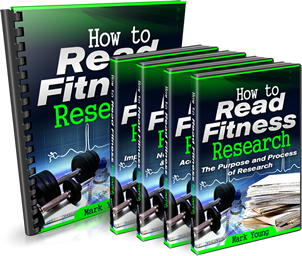 Subscribe to our FREE newsletter and get exclusive content as well as updates on site happenings.
Related Posts: